Our policy at Ben Abeba is to use foods produced locally. As well as ensuring fresh produce, this gives a boost to the local economy. The menus will change regularly due to the availability of foods.
Food hygiene is a main priority at Ben Abeba. All members of staff have been trained in food hygiene. All raw fruit and vegetables have been washed in boiled water and are safe to eat.
There will always be a range of traditional Ethiopian as well as international foods available.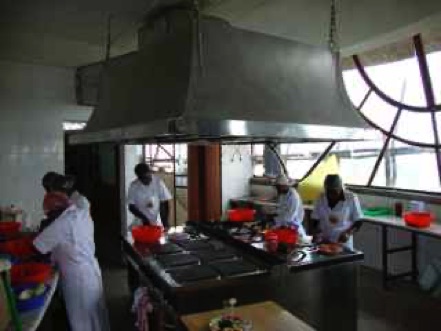 BREAKFAST
The restaurant opens at 7.00am. If catching an early flight, there is time to have a last look at the spectacular Lalibelan scenery while breakfasting at Ben Abeba. Continental breakfast includes your choice of freshly squeezed fruit juice, toast with local honey and homemade jam, tea or coffee. Full breakfast includes eggs, cooked however you like.
LUNCH
The full menu will be available. If looking for a light lunch, try one of our excellent soups served with freshly baked bread. A range of pasta dishes is also available as is a plate of fresh salad.
If coming with a group, phone in advance, and a 2 or 3 course buffet can be ready for you on arrival.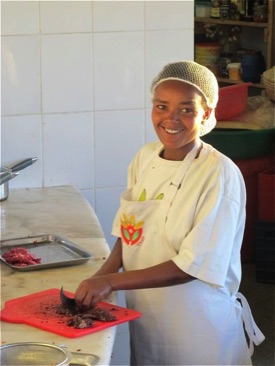 DINNER
In addition to the menu, daily specials will be on offer, dependent on the availability of ingredients.
Complete the meal with a choice from our dessert menu which includes, fresh fruit salad, homemade cake and biscuits, Ben Abeba special crepe with a local honey and lemon sauce, biscuits and cheese (when available).
SNACKS
Ben Abeba is open all day and gives a relaxing place to spend a few hours after visiting the churches. Our drinks menu includes freshly made lemonade and a range of freshly squeezed fruit juices in addition to a range of alcoholic and non-alcoholic drinks. Every afternoon freshly baked scones, served with homemade jam, are available to have with your tea or coffee.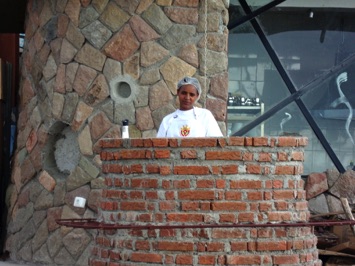 TAKE AWAY
If planning a day trip from Lalibela, book the night before and a packed lunch can be prepared for you to take on the journey.
If you have a sweet tooth and are spending a few days trekking in the mountains, a parcel of cake and biscuits can be provided.